| | |
| --- | --- |
| MASS COMPARATOR UYA / KO | |
Balance protective cover offered in standard

The newest line of Radwag Mass Comparators allows for calibration of mass standards and weights according to the recommendations of OIML (R-111) from 1mg to 50kg for E1 class and lower from 500kg to 200kg for class M1 and lower. The line comprises 6 types (13 models) each with 5,7 colour touch screen with new intuitive menu.

The comparators are used both for ensuring traceability of mass measurements, and verification of weights in accordance with legal metrology. RADWAG Mass Comparators have gained recognition among Accredited Calibration Laboratories, in many countries.
Mass comparators UYA/KO series comprise two components. One of them holds the electronic module, and the other precise mechanical measuring system. Such solution guarantees elimination of temperature influence (warming of electronic elements) on the comparator's indications. The comparators feature an aesthetic, cylindrically shaped weighing chamber with glass draft shield and automatic opening door system. All elements of the weighing chamber are manufactured from glass or metal which minimalizes the influence of electrostatic charges on weighing result.
Computer Aided Process of Calibration
Specially designed software enables management of calibration procedures. The Program is responsible for all stages of calibration processes in a laboratory from the moment of order confirmation up to the final issuing of calibration certificate.
1. After receiving an order, filling all the necessary data of calibrated instruments and assigning an operator, the program prepares mass comparators. Operators use touch panel to communicate with the program and to send all the results of measurements from mass comparators used in that procedure.
2. Additionally program registers ambient conditions in the laboratory and if they are exceeded, it can block measuring instruments.
3. Program has a built-in database of contractors, operators, used standard masses and mass comparators. It also registers incoming orders and issued calibration certificates. In the archive files the program stores all calibration protocols, orders, calibration certificates with the parameters of ambient conditions.
4. Program controls metrological validity of all standard masses used in a laboratory. It performs calibrations according to ABBA or ABA cycles that are defined in the order.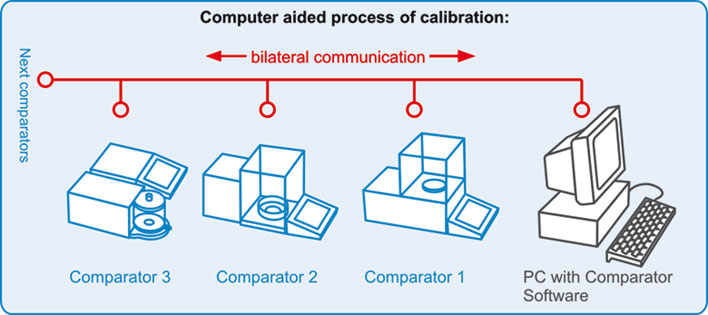 Compatible with
Mass comparators UYA/KO
Mass comparators WAY/KO
Mass comparators MYA/KO
Mass comparators APP/Y/KO
Mass comparators XAY/KO
Mass comparators WPY/KO
Infrared proximity sensors
Optional functions:
- PRINT function
- TARE function
- Sensor's sensitivity adjustment

Electronic level indicator
Functions:
- ALARM function
- Graphic level indicator
- Programmable acceptable tilts
Data exchange through
USB storage devices
- Software update
- Exporting weighing data
- Exporting / importing balance settings
- Exchanging data between balances

Interface communication
- Ethernet
- RS 232
- 2×USB
- Additional display
Technical data:

UYA 5/KO

Maximal load
5,1 g
Range of electromagnetic compensation
3,9 ÷ 5,1 g
Readability
0,1 µg
Repeatability*
0,4 µg
Linearity
±0,5 µg
Pan size
ø14 mm
Stabilization time
10 s
Sensitivity drift
1ppm/°C in temperature +15° - +35°C
Adjustment / Calibration
external
Power supply
110 ÷ 230 V AC / 50 ÷ 60 Hz / 13,5 ÷ 16 V AC / 1,1 A
Display
5,7'' touch screen
Interface
2×USB, RS 232, Ethernet, 2di / 2do
Net weight/Gross weight
10,2/14,7 kg
Packaging size
565×565×355 mm
Calibration range according to OIML R111
1 mg ÷ 5 g (E1÷M1)
1 g ÷ 5 g (M2÷M3)

Ambient conditions

Working temperature
+15° ÷ +30°C
Change rate of working temperature
±0,5°C/12h
Atmospheric humidity
40% ÷ 70%
*
Repeatability is expressed as a standard deviation of six ABBA cycles ( according to R111 OIM) in stable laboratory conditions.